Hazing Prevention Model
Public Health Approach
Preventing hazing requires a comprehensive approach involving multiple strategies.
Cornell University takes a campus-wide, public health approach to preventing hazing, which includes seven key areas.
Students, staff, faculty, alumni, parents, and community members each have a role to play.
Effective prevention requires understanding the complex factors that contribute to hazing.
Our Campus Model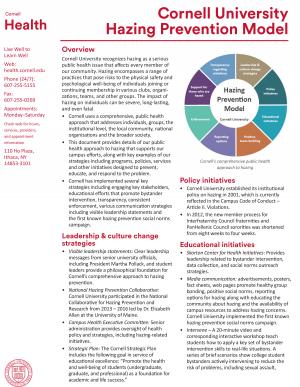 View/print Cornell's Hazing Prevention Model fact sheet
(CU NetID required; or email us for a copy)
Details
Click on the links below to learn more about each topic in our Hazing Prevention Model: